Reminiscing and Creating Memories at Hyuga Café
Nostalgia can be a bittersweet feeling and a 360-degree ride of emotions where time and people play in our memories. That's what I've felt at Hyuga Café—the BTS dormitory turned into a café and bakery hang out place.
At First Glance
The entry signs before you go up can definitely not prepare your soft ARMY heart. It's like a playful scenario that you know you're about to see glimpses of BTS but there are these "normal" café and bakery and museum signs and vibe, welcoming you—until right after few stair steps, the sketch of seven boys from Korea greets you.
Are you traveling to Korea? Stay connected while you're in the country and book a pocket wifi.
I can resemble the minimalistic entryway with the humble beginnings of these seven boys. Plain but attractive. Simple but intriguing. If you just dig into it a bit more, multitude of colourful stories are actually hiding behind the "simple" sketch.
Details and Colours
The neat-looking-cement walls of the café perfectly blend with colours from artworks and plants, scattered in corners and sides in every floor of this former BTS dorm. Your eyes will be pleased with different layers of hues and can certainly catch your attention, thinking how BTS members have painted your life as a fan; and you can't help it but to smile like a fool. Just like a proud parent looking at what your kids have become. Just like a delighted friend who is always ready to celebrate your pals' success, or lend them a hankie or warm hug when things get tough. BTS' journey has never been easy after all.
With all these memories, you can't help but made a silent pact to be with these seven boys wherever their journeys will be. And the relaxing scenery of bamboos that are exhibited through the windows can just ease your plea and nod in contentment of stanning this boy group who carved their dreams in the exact place where you're currently enjoying your drink.
Also Read : Goods, Merch, and Souvenirs to Buy in Korea
Sweet Tooth, Sweet Memories
A wide range of breads and pastries are served alongside choices of drinks. Pick your food pleasure, get your seating spot, watch how all the other visitors reminisce and create new memories in the café. Messages of ARMYs are parade throughout the large wall, displaying every emotion and story they had, have and will have with BTS.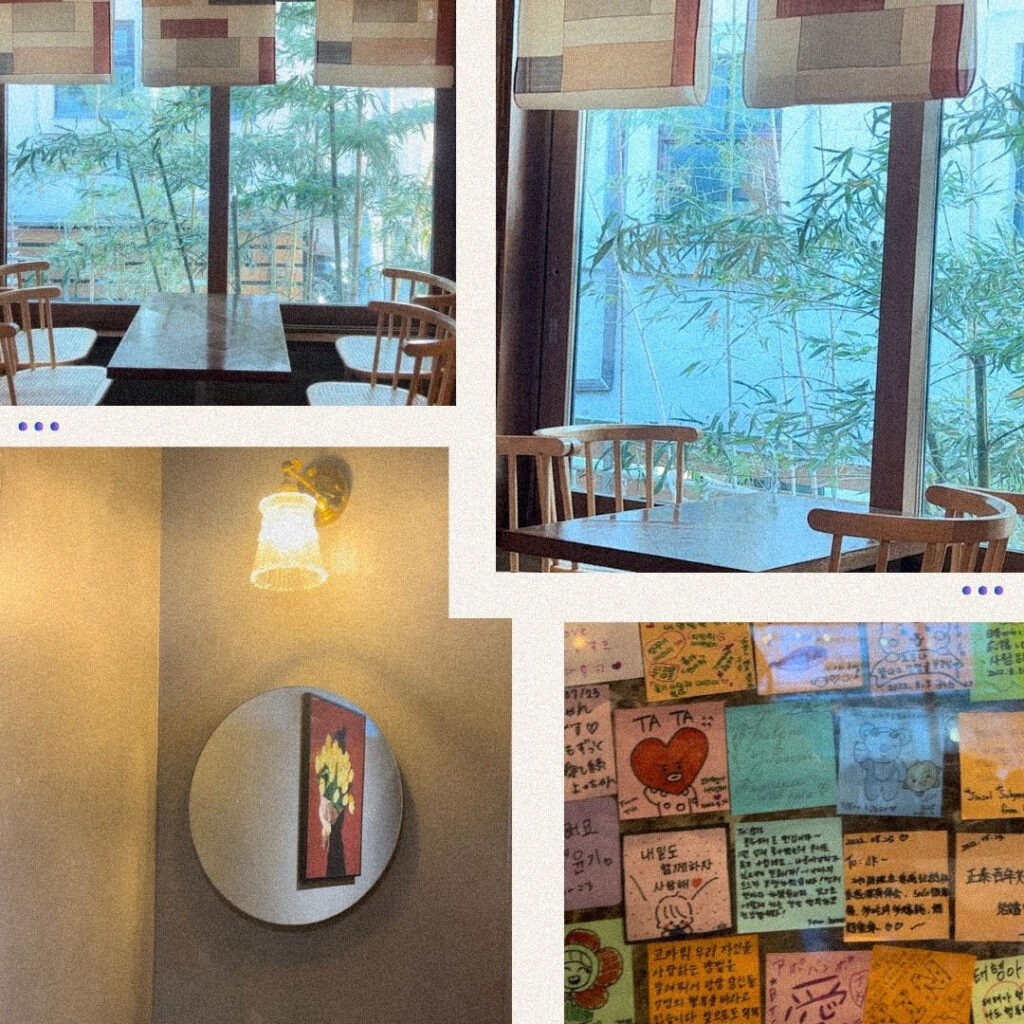 Hyuga Café is a must visit place to bring back memories, indulge your tummy, please your artsy soul, and pen a whole new story with the people who share the same purple blood as you.
Share your experience when you visited the café. If you haven't yet, definitely do it soon!
Address: 16, Nonhyeon-ro 119-gil, Gangnam-gu, Seoul (Zip Code) 06116
Take the Quiz: Which Season Should You Travel to South Korea?
Fangirling: Started from Full House. Continued in Secret Garden. Though a total K-drama addict, she's a newbie in the world of Korean and Chinese idols.
Personal: She is a lover of coffee and cheese. She's been wandering slowly (very) for seven years, finding home in cities she fell in love with. When she can win over laziness, she will let the words flow.