Poems to Keep You Warm in Cold Days from I'll Find You on a Beautiful Day
If you are transitioning into gloomy days from the blue sky weather, a slow-paced and warm korean drama like I'll Find You on a Beautiful Day can be your good companion. If life's responsibilities can hinder you to spend time for a 16-episode drama with one-hour long each, this brief reading is a good start before fully indulging to the world of Im Eun Seop (Seo Kang Joon) and Mok Hae Won (Park Min Young). You can still stay under your blanket for a prompt reward and feel warm through the poems from I'll Find You on a Beautiful Day. Grab your hot drink and enjoy these winter-touch yet flaring-relatable verses.
ALSO READ: Park Min Young And Other Actresses Who Starred in K-pop Music Videos
The Person I Love (A Drink) by Jeong Ho-Seung
Life has never bought me a drink.

On many winter nights,

at a snack stall in a dead-end alley,

I emptied out my pockets to buy life a drink.

But life has never bought me a single drink.

Whether it was a snowy day

or a day when a stone lotus flower silently bloomed and fell.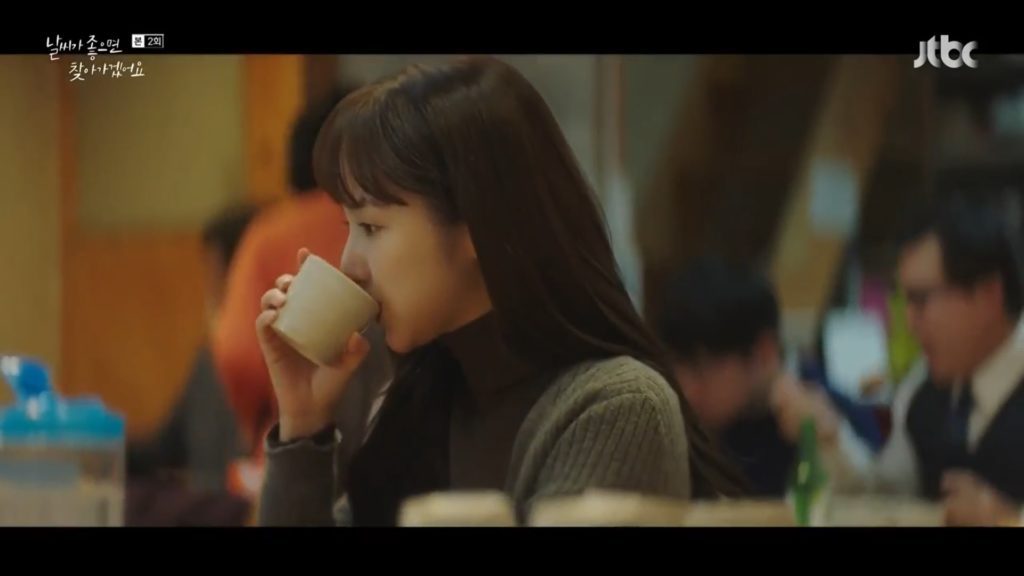 Whether you are living with full independence like Hae Won or surrounded with almost all the people in a village like Eun Seop, don't forget to buy yourself a drink. Even if life seems not going forward to the path you are expecting, don't get tired in treating it how you want to be treated. Who knows, the love, the career or that thing you've been wishing for will offer your favourite drink in the season or on a day when you crave it the most.
An Empty Field of Grass by Shim Myeong
(Shim Myeong is an Author in the drama, played by Moon Jeong Hee)
Sleet fell on the waters of Lake Hyeocheon.

The time they spent together as lovers last night melted away completely.

[She] thought of him, whom she left on the grass.

"How much longer will I have to wander

along the edges of pain to kill off all the memories?"

If love memories were sleet or a snowman lost in the wrong season,

no regrets are needed.

I just want them gone.

Only disillusionment is left on the lonely grass.

An old love crosses the river of oblivion.

If only I could also cross this field of futility.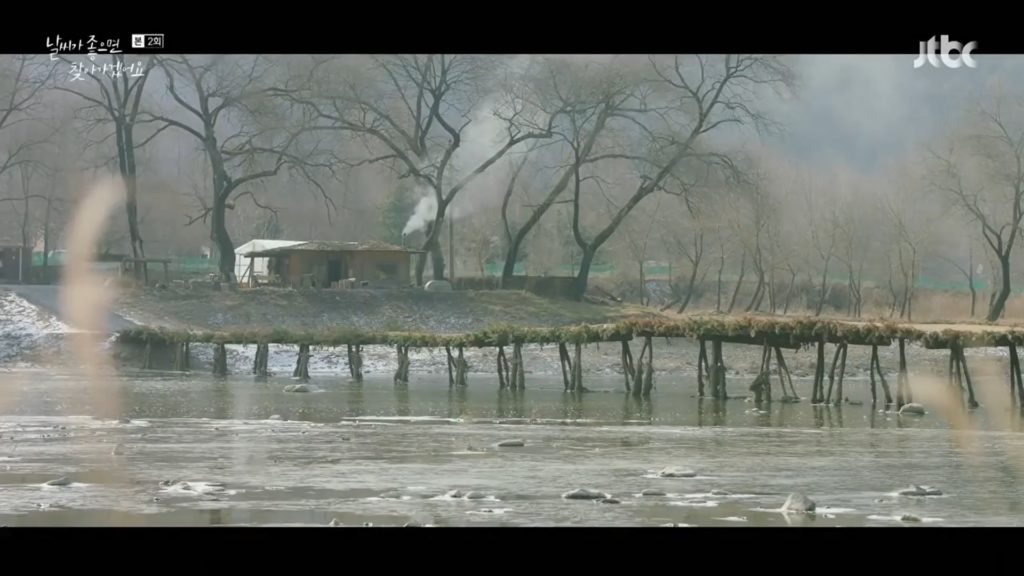 Shim Yeon's love story is pure. She acts like love is nothing but a foolish thing, but she has this soft heart of still wishing to win back the affection that she let go. She can be too realistic in dealing with life yet can hardly move on from the wound of the past. If you think you are Shim Yeon in one way or another, don't keep your field of life empty for too long; and remember to fill it with support from the people you can truly get that much needed understanding.
The Person I Love (To the Daffodil) by Jeong Ho-Seung
Don't cry.

To be lonely is to be human.

To live is to endure loneliness.

Don't wait for the call that never comes.

The black-chested sandpiper in the reed field is watching you.

Sometimes, even a deity cries from loneliness.

Birds sit on branches because they're lonely.

You sit by the water because you're lonely.

The mountain shadow comes down to the village once a day because it's lonely.

The peal of bells rings out because it too is lonely.
Cry if you need to. You are a human after all. Don't deny loneliness. It will kill your soul badly. Most of the characters on I'll Find You on a Beautiful Day are still imprisoned by the corners of their past. Without noticing, the keys to release their long-hidden agony, anger, tears, fondness, are kept in their own hands. They just needed someone to help them released their stubborn clutched fingers.
A Little Love Song by Hwang Tong Gyu
I received a letter that froze our yesterday into a still frame.

The path on which I used to follow you every day is now gone,

and other things are gone as well.

I see the pebbles that used to be like our toys when we were kids stuck in the ground,

with their faces covered.

I love you, I love you.

In the cold evening sky, I see slowly formed crevices.

Snowflakes flutter down from the sky.

A few among them can't land on the ground.

Instead, they keep fluttering around, shivering with their eyes open.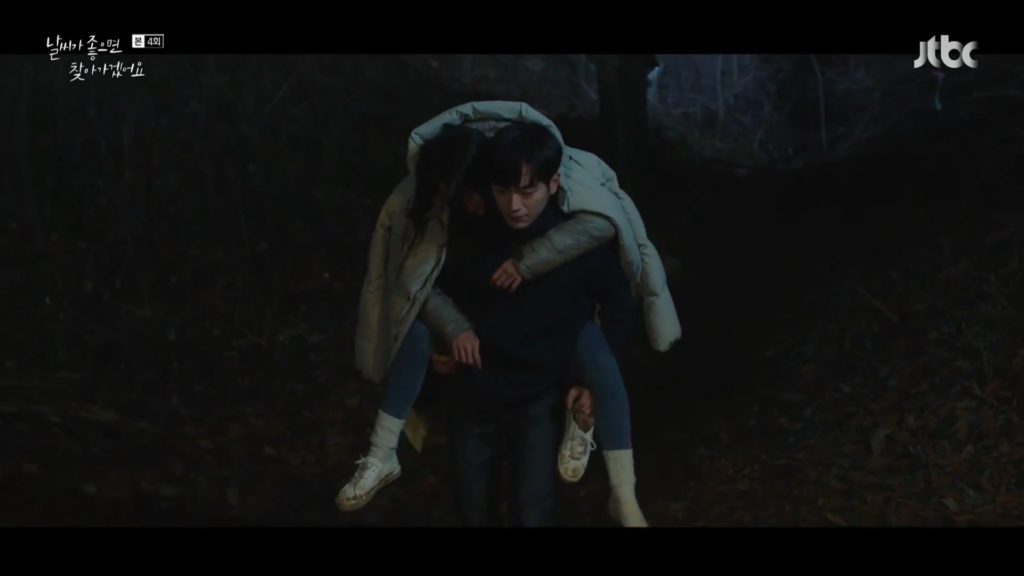 Changes can be liberating and scary. The son who used to obey every rule set by the parent is now making his own decisions. For Eun Seop's mother, the uneasiness has never faded. She knows that any time, Eun Seop can take the choice that might break his relationship with the family. A mother and son relationship, bonded with blood or not, has a different kind of love. When the trust is given, choices will never turn into regrets.
Owl at Home by Arnold Loble
Owl was at home.

Owl said, "It feels so good to be sitting by this fireplace."

It's so cold and snowy outside.

And then he heard someone knock on his door.

It was poor old winter.

Owl thought to himself,

"All right, I'll be kind and let winter come in."

"Winter, come on in."

"Come inside and warm yourself for a while."
The comfort of home is not permanent. You can find it in the place where you grew up, in a house you bought, in a rented apartment you decorated. Most of the time, the assurance of safety and relaxation comes from the people you live with. Share your comfort to those who need it, just like how the members of the Book Club on I'll Find You on a Beautiful Day gather. Consoled with words and grilled food, the winter cold can easily feel like a fresh spring.
There were too many beautiful words shared in this k-drama. If you will finally reward yourself with a longer sitting in front of a fireplace and covered with freshly washed blanket, start watching I'll Find You on a Beautiful Day and join the weekly gathering in Eun Seop's coffee shop and bookstore.
To end your day, here's a bonus blog entry from Eun Seop.
Eating and sleeping well.

Since sleeping well is a good thing.

Waking up well, eating well, working well, and getting good rest.

And if you sleep well at night, that's what you call a really good life.

So have a good night, everyone.
Fangirling: Started from Full House. Continued in Secret Garden. Though a total K-drama addict, she's a newbie in the world of Korean and Chinese idols.
Personal: She is a lover of coffee and cheese. She's been wandering slowly (very) for seven years, finding home in cities she fell in love with. When she can win over laziness, she will let the words flow.