Blue & Grey: Never Thought Being Sad Is Totally Okay
When BTS create songs, they make sure that each lives not only in our playlists, but as well as in that special place in our music souls—meant to stay as long it wants, as long as we need it.
The release of their album, BE, by end of 2020 is the perfect "giftbox" that pretty sums up what most of the world had to cope with, and some, still have to.
BE has eight equally beautiful tracks, but there's one song that hits differently to a lot of vulnerable emotions in times when we had to heavily depend on ourselves trying to process each sentiment in the corners of our homes—Blue & Grey.
Not everyone is brave enough to accept sadness, but here's Kim Taehyung, revealing how he puts his depressing times by writing and producing a vulnerable, naked song. Vulnerable to let people realise how deeply sad anyone can be; naked to feel insecure on how people would judge your raw emotions.
So, let's dare our weak hearts again as we embrace each line of Blue & Grey, exposing our most hidden sadness and darkest insecurities.
Intro
There's always a day when we wish that someone can just come and help us survive a physically and emotionally draining day. There's always a time when we try to copy someone else's smile to our faces, leaving masks full of tears behind.
These powerful first lines seeking for help and bursting desperation for happiness are definitely like a dagger with no mercy.
Verse 1
That feeling of being eaten alive from anxiety and depression without even knowing how you ended up in that trap. Even the word "miserable" can't make justice to describe such state. And the only way is to finally see a light where hope, hopefully, is waving.
Chorus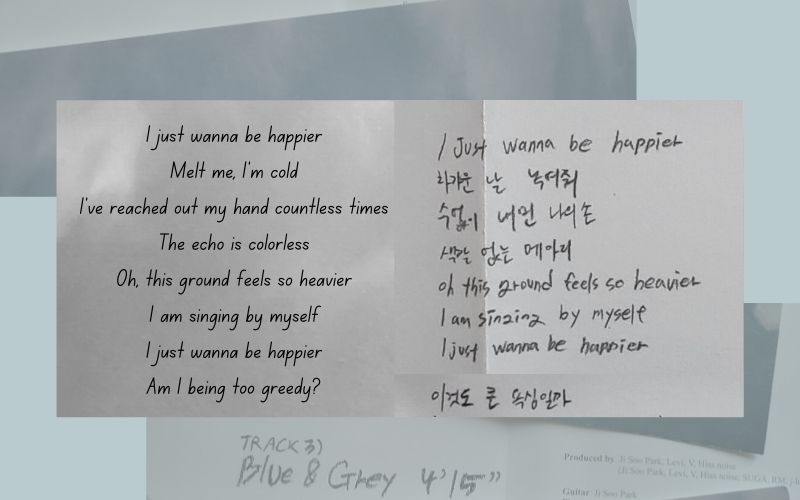 "No, you're not being too greedy when all you're asking is to be happy."
"No, you're not singing alone while standing in that heavy ground."
"Please feel the warmth of the people who care for you. They are there."
Those are the lines I just want to throw to Taehyung or to whoever feeling helpless and lonely. And remember, when hugs are limited, comforting messages are way to go. We're lucky enough to live when letters and words can be sent instantly.
Post-Chorus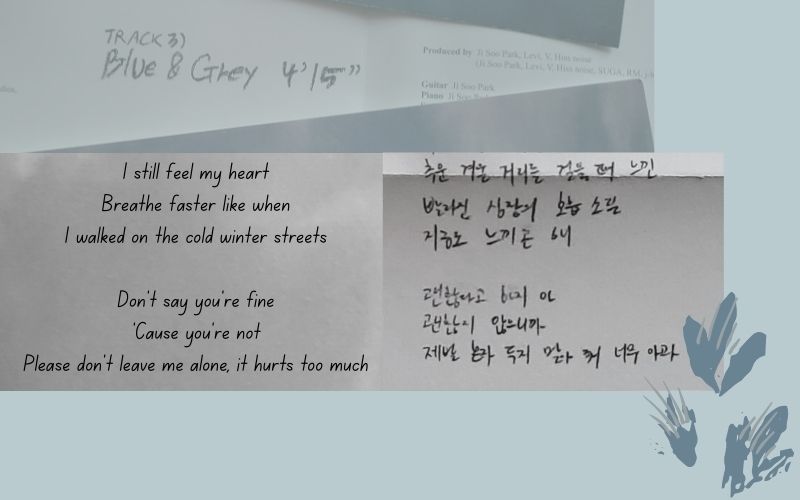 It's not a weakness when you're afraid to be alone. It's okay to grab someone's hands to feel safe. It's fine to say you're not fine.
Just because "ok" and "fine" seem too short and easy to write and say, it doesn't mean we need to use them all the time. Adding this simple yet can be difficult three-letter word can make a lot of difference—"not".
Verse 2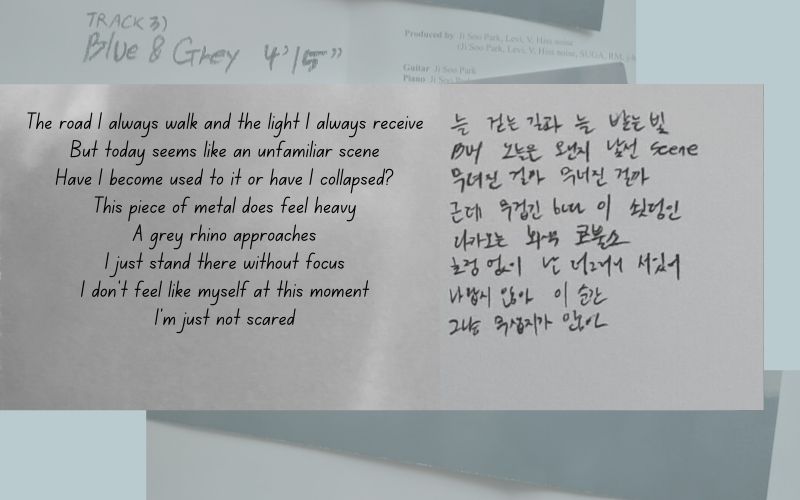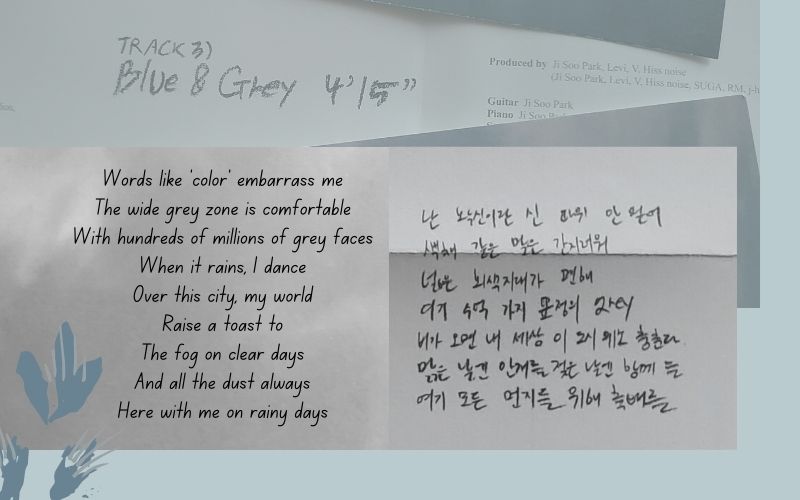 It takes courage to take the unknown road full of judgments. It takes freedom to dance under the rain. It takes time to finally paint the gloomy canvas.
Chorus and Outro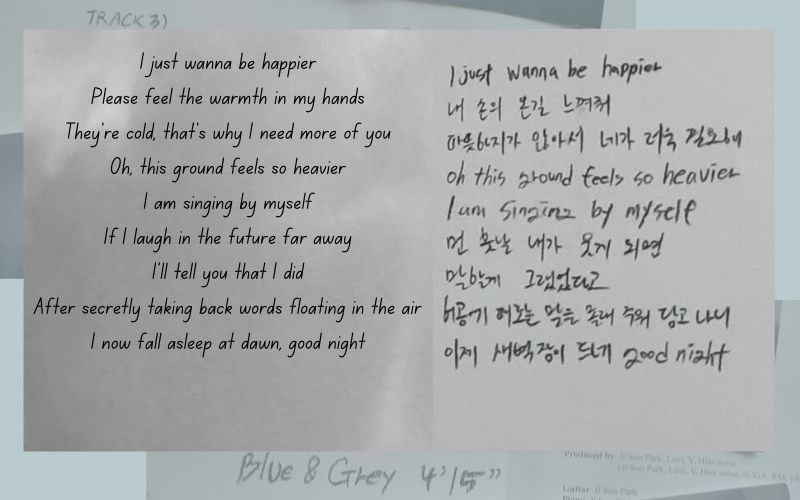 To whoever may need this:
"Let me warm your cold hands."
"Let me hear you sing your loudest cry."
"Let me see you having a good night."
The last lines that keep on reminding us how tricky it can be to seek for happiness alone. How bluish and greyish it can be, there will come a time when we don't need to wait for dawn to finally shut our eyes and wishing for a colourful dream.
When Blue & Grey Came
I never thought that the word "happier" can make me feel the deepest sadness.
I never thought that "good night" can be both suffocating and hopeful.
I never thought that a song can elaborate every vein of tiredness, wishing to be saved.
I never thought that Kim Taehyung, behind the boxy smile, can express pain that is hard to escape from.
I never thought all these possibilities until Blue & Grey came.
Now, time to listen to this masterpiece again:
How did Blue & Grey  touched your sensitive soul? Which line hit you the most?
This 4-minute masterpiece is also written by BTS' rap line: RM, SUGA and J-Hope. Full credits here.
Lyrics source here.
Fangirling: Started from Full House. Continued in Secret Garden. Though a total K-drama addict, she's a newbie in the world of Korean and Chinese idols.
Personal: She is a lover of coffee and cheese. She's been wandering slowly (very) for seven years, finding home in cities she fell in love with. When she can win over laziness, she will let the words flow.